What's the most fun about collecting? Showing off. Let's be honest. It's knowing that you have something that only three other people in the known world have. You love the feeling. You can't fool us. Well, to help get the word out about just how rare and unusual some of the items in the collective NAPCA collection are, we welcome you to What Is It?--a monthly taste of something you're likely to have never seen or have only seen once or twice.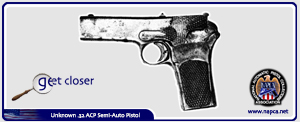 Our second puzzle comes again comes from any the annals of AutoMag History.

The pistol you see pictured above was originally pictured in Volume 2, Issue 1 from April, 1969 and was submitted by Joe Schroeder with the following comments:


The odd pistol on the picture page (see above) is one I got from Sid Aberman many years ago, and he knows no more about it than I do. At first glance it looks like another Chinese "atrocity" but the design is too original for that. The rear knurled portion is the pivoting breech block, which operates like the Batavia .22 did. The breech block is mounted on two arms which lie under the grip, pivoting on a pin at the base of the grips. The forward knurled part is the member that couples the recoil spring (under the barrel) to the breech block. A tremendous amount of work went into this pistol, which is still in the white. My assumption is that it is the product of some basement genius, who may or may not have gotten around to patenting it - and it could be either American or European since I simply can't see it having come out of Asia. Caliber .32 ACP, but barrel unrifled.

If anyone has any idea about this "atrocity" please let us know as this is still a mystery to date. Any information would be much appreciated.

We hope you enjoyed this installment of What Is It? and we hope you'll join us each month to learn a bit more about NAPCA and about the strange weapons our members seek.